Due to a family emergency among our close-knit team, Libiquity is currently not accepting new orders. We apologize in advance for the inconvenience.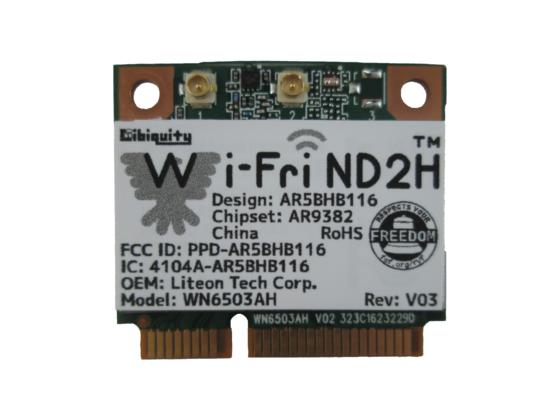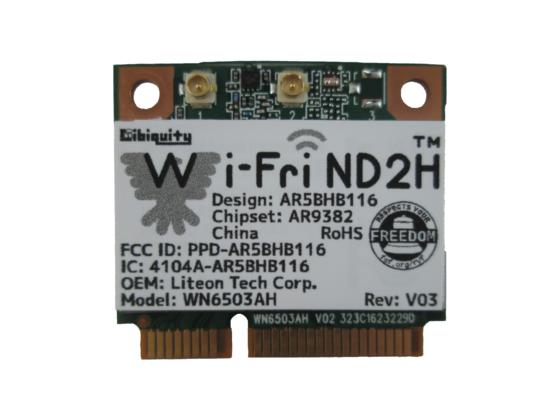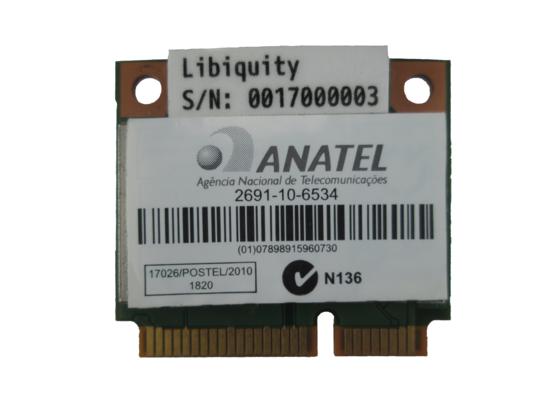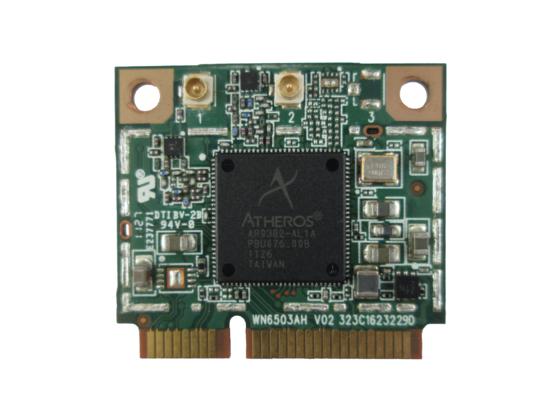 Customers outside the USA: please contact us to order at this time.
Customers who bought a Taurinus X200 from us before July 24, 2019 may receive a $10.00 rebate on a Wi-Fri ND2H. E-mail us at <sales@libiquity.com> after ordering, and we'll credit the rebate amount to your payment method.
Description
Wi-Fi® a/b/g/n Dual-Band Long-Range Low-Power PCI Express® Half-Mini Card
Forget about proprietary Wi-Fi drivers and firmware, and connect to Wi-Fi networks with enhanced performance and battery life at any range! The Wi-Fri™ ND2H works with free software, supports both 2.4-GHz and 5-GHz radio frequency bands, maintains strong signal strength and reliability at long range and in a congested spectrum, reduces power consumption through high integration and dynamic downshifting, and fits most laptop computers.
Freedom-Respecting
Most Wi-Fi cards require running proprietary drivers in your operating system and/or loading proprietary firmware. In particular, all Wi-Fi 5 and 6 (IEEE 802.11ac and 802.11ax) cards unfortunately require at least proprietary firmware.
The Wi-Fri ND2H on the other hand is fully supported by drivers that anyone is free to study, modify, and redistribute, and no proprietary firmware needs to be loaded onto it by your operating system. The firmware is part of the hardware, stored within the chipset and modifiable by no one, including the developer.
This freedom-friendly Wi-Fi card meets the requirements of the Free Software Foundation's "Respects Your Freedom" certification program. "Fri" means "free" in Danish, Norwegian, and Swedish!
Dual Frequency Bands
The 2.4-GHz Wi-Fi band has only three non-overlapping channels, which are shared with cordless telephones, baby monitors, Bluetooth devices, car alarms, microwave ovens, wireless video cameras, amateur radio transmitters, and other common devices. Such heavy congestion can severely limit Wi-Fi performance.
The wider 5-GHz band is split into many more channels, which can be combined to more than double a channel's bandwidth. Fewer types of devices interfere with 5-GHz traffic. And the band's shorter wavelength and higher signal attenuation reduce access point coverage area, resulting in fewer clients competing to transmit. This large low-traffic 5-GHz band enables enhanced Wi-Fi performance with the Wi-Fri ND2H.
Strong Signal at Long Range
Transmit beamforming (TxBF) utilizes the Wi-Fri ND2H's dual antennas to direct signals to specific clients, improving signal strength and reducing interference with other clients. Low-density parity-check (LDPC) coding detects and corrects transmission errors to improve reliability and performance in a noisy spectrum. These and other features deliver strong rate-over-range performance.
Low Power Consumption
The Wi-Fri ND2H's chipset integrates components such as low-noise and power amplifiers, switching regulators, and EEPROMs to reduce power consumption in every operation mode. Dynamically downshifting from 2x2 MIMO to 1x1 SISO saves power by driving only one antenna when possible.
Ubiquitous Form Factor
The Wi-Fri ND2H implements the PCI Express 1.1 x1 system bus interface in a PCI Express Half-Mini Card (Type H1) 1.2 form factor. It's mechanically and electrically compatible with all PCI Express Mini Card (also known as "Mini PCI Express", "Mini PCIe", "Mini PCI-E", and "mPCIe") sockets, commonly found in laptop computers since 2005 as well as PCI Express Mini to PCI Express card adapters (for use with desktops, workstations, and servers), some single-board computers, and other devices. It fits Half-Mini-only sockets, dual-use (Full- or Half-Mini) sockets, and dual head-to-head sockets (connector A only).
It also fits Full-Mini-only sockets using the optional bracket, which is designed and manufactured by Libiquity in the USA using freedom-respecting software and manufacturing equipment. Parametric CAD source files for the bracket are available and licensed under GNU General Public License version 3 or later.
Driver Support
Linux and GNU Linux-libre version 2.6.36 or later (version 2.6.38 or later recommended), ath9k driver. Supported GNU/Linux, GNU/Linux-libre, and BusyBox/Linux distributions include (but are not limited to):
Trisquel 5.0 STS (Dagda) or later
Guix System all versions
Parabola GNU/Linux-libre 2011.05.24 or later
Hyperbola GNU/Linux-libre all versions (excluding upcoming HyperbolaBSD)
Dragora GNU/Linux-Libre 2.2 or later
gNewSense 3.0 (Parkes) or later
Alpine Linux 2.2.0 or later
Arch Linux 2011.08.19 or later
CentOS 7.0-1406 or later
Debian 2.1 (slink) or later
Devuan all versions
elementary OS 0.2 (Luna) or later
Fedora 15 (Lovelock) or later
Gentoo Linux 11.0 or later (11.2 or later recommended)
Linux Mint 11 or later
Manjaro all versions
MX Linux all versions
openSUSE 11.4 or later (12.1 or later recommended)
Red Hat Enterprise Linux 7.0 or later
Slackware 13.37 or later
Tails 0.8 or later
Ubuntu 11.04 (Natty Narwhal) or later
FreeBSD 10.0-RELEASE or later, ath(4) driver
Microsoft Windows XP or later
Laptop Compatibility Note
The proprietary boot firmware systems (commonly known by their "BIOS" or "UEFI" interfaces) of many laptop computers refuse to boot upon detecting any Wi-Fi card other than those sold by the laptop vendor. The Wi-Fri ND2H is likely to be rejected by such computers. Users of free boot firmware systems such as libreboot and coreboot, including owners of Libiquity Taurinus computers, are unaffected.
Installation Service
Do you own a Taurinus computer and need professional installation? E-mail us at <sales@libiquity.com> for a quote.
Chipset manufactured by and card designed by Atheros Communications, Inc. Card manufactured by Delton Technology (Guang Zhou) Inc. for Liteon Tech Corp. and sold by either Liteon Tech Corp. or SparkLAN Communications, Inc. Card refurbished and sold under a Libiquity brand and with the Respects Your Freedom mark as a guarantee of free software compatibility.
Specifications
Chipset

Atheros AR9382

Network MAC/PHY Standards

IEEE 802.11a, 802.11b, 802.11g, 802.11n

Frequency Bands

IEEE 802.11a/b/g/n ISM bands:

2.412 GHz – 2.484 GHz

5.180 GHz – 5.825 GHz

(Subject to local regulations)

Regulatory Domains

IEEE 802.11d international roaming

MIMO Configuration

2x2:2 (2T2R):

2 Tx chains, 2 Rx chains, 2 spatial streams

Operating Modes

Station/managed/client

AP/master (2.4 GHz only)

AP/VLAN (2.4 GHz only)

IBSS/ad-hoc (2.4 GHz only)

WDS

Monitor

Mesh point

Wi-Fi Direct/P2P client

Wi-Fi Direct/P2P GO

Scanning

Maximum SSIDs: 4

Maximum IE length: 2257 bytes

Quality of Service

IEEE 802.11e

Security

IEEE 802.11i:

64-bit WEP

128-bit WEP

WPA

WPA2

IEEE 802.1X:

EAP

Cipher Suites

WEP-40 (00-0F-AC:1)

TKIP (00-0F-AC:2)

AES-CCMP (00-0F-AC:4)

WEP-104 (00-0F-AC:5)

AES-CMAC (00-0F-AC:6)

Hardware Encryption

WEP

TKIP (WPA)

AES (WPA2)

Modulation and Coding Schemes

HT indexes 0–15

Multiplexing and Modulation

IEEE 802.11b: DSSS with DBPSK, DQPSK, CCK

IEEE 802.11a/g: OFDM with BPSK, QPSK, 16-QAM, 64-QAM

IEEE 802.11n: OFDM (HT mode) with BPSK, QPSK, 16-QAM, 64-QAM

Forward Error Correction

Convolutional coding

Low-density parity-check (LDPC) coding

FEC Coding Rates

1/2, 2/3, 3/4, 5/6

PHY Data Rates

IEEE 802.11a: 6 Mbps – 54 Mbps

IEEE 802.11b: 1 Mbps – 11 Mbps

IEEE 802.11g: 6 Mbps – 54 Mbps

IEEE 802.11n: 6.5 Mbps – 300 Mbps

Driver Support

Linux and GNU Linux-libre version 2.6.36 or later (version 2.6.38 or later recommended), ath9k driver

FreeBSD 10.0-RELEASE or later, ath(4) driver

Microsoft Windows XP or later

See also "Driver Support" in description

System Bus Interface

PCI Express 1.1 x1

Form Factor

PCI Express Half-Mini Card (Type H1) 1.2

Antennas

2 × U.FL connector

Dimensions

30.00 mm × 26.80 mm × 4.50 mm (1.18″ × 1.05″ × 0.18″)

Weight

≤ 9 g (0.32 oz)

Operating Voltage

3.3 V ± 9% I/O supply voltage

Maximum Current Draw

600 mA (continue Tx)

237 mA (continue Rx)

Temperature

0 °C – +75 °C (operating)

−40 °C – +85 °C (storage)

Humidity (Non-Condensing)

5% – 90% (operating)

5% – 95% (storage)

Safety

UL 94 V-0 flammability rating

UL Recognized Component file number E237771

RoHS 2002/95/EC

What's Included

Wi-Fri ND2H card

Optional PCI Express Half-Mini to Full-Mini bracket (> 99.9% high-impact polystyrene, designed and manufactured by Libiquity in the USA)

Warranty

6-month limited warranty, extendable to 2 or 3 years at time of purchase